Thank You for Your Valuable Feedback!
We appreciate it!
Download Your Free Thank You Gift Below
Radiant You™ Smart spice Recipe
(Please do not forget to save your pdf file to your computer)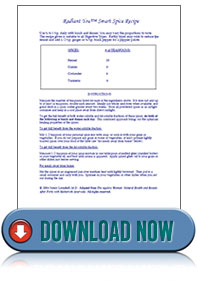 Want Additional Personalized Guidance for Your Health and Healing?
Find Out About A Personal Consultation With Dr. Lonsdorf
Slow to achieve your goals? Seeking something more? Stuck in the past? Relationship issues?
Check out Coaching for Mind-Body Balance with Drs. Nancy Lonsdorf and Ziv Soferman, a deeply transformative, new coaching approach that turns longstanding issues into non-issues in as little as 2 days, and our research shows the results are lasting.
Want Added "Oomph" For Your Healing?
Check out Products to Heal