Before Your Appointment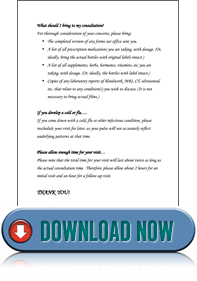 1. Please download and print our "Practice Information Package" described below, and review it prior to your consultation.
The document includes a number of important topics, including the following:
What to provide at or prior to your consultation session (re: records, lab tests, medications, supplements, etc).
A "Prevention Handout" that describes preventive tests and checkup options.
Insurance, Medicare Opt-out and payment information.
Our office's Privacy Policy re: medical information.
2. "Personal Health Questionnaire" Please choose the appropriate form for your situation and complete it at least one day prior to your appointment if at all possible.
3. Privacy Policy: To see our Privacy Policy, please download it here.
4. California law requires every physician to post this message on their website:
"The Open Payments database is a federal tool used to search payments made by drug and device companies to physicians and teaching hospitals. It can be found at https://openpaymentsdata.cms.gov."